As a TWO MEN AND A TRUCK franchisee, you'll oversee all aspects of your TWO MEN AND A TRUCK franchise, working to provide quality and efficient moving services to your community while also giving back through charitable programs.
Once you get past the initial signing process, complete the Gearing Up training program and all franchise owner requirements, you become an individual business owner within our brand. With the growing moving industry and the chance for additional revenue opportunity through services such as national accounts and junk removal, success with TWO MEN AND A TRUCK is within reach.
A typical day for a TWO MEN AND A TRUCK® franchisee varies greatly, but on average, our franchisees spend 30-40 hours per week overseeing their operations.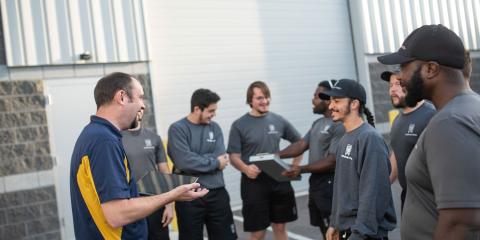 TWO MEN AND A TRUCK franchisees can expect to manage the following tasks day-to-day:
Monitor franchise culture and atmosphere, and ensure there is healthy work environment focused on providing your team with opportunities for growth and advancement
Work to drive success for your franchise through strategic business planning and growth tactics while protecting the brand
Create a work environment that promotes fair treatment, personal accountability, open communication, and staff development
Apply skills in training, mentoring, and implementing a system for your franchise and franchise staff
Ensure your franchise location is in compliance with all regulations and guidelines of the franchise agreement at a local and national level
Build meaningful relationships with other business owners and organizations in the area to help participate and invest in giving back to the local community
What should someone know before becoming a TWO MEN AND A TRUCK franchise owner?
"Although you're a business owner, it's still a full-time job. If you can manage stress, risk, balance, and the burden of responsibility, being a business owner can create a lot of cool opportunities. Being a business owner in a franchising system gives you access to many great tools and resources, as well as a tested road map to success, but it's still up to you to make everything come together. I have found good value in remembering that I'm the business owner – I have to drive the ship and make the tough choices."
What are some of the best aspects of being a franchise owner?
"I would say the avenue it creates for me to show so much to my daughter – how much hard work can pay off, the impact you can have on people's lives, how important giving back is, work and life balance, sacrifices, and the value of being creative to work around a challenge."
What is something unique about the job that people wouldn't expect?
"You can really have your cake and eat it, too! Not every day, but there are times when I'm still shocked to see how it all comes together. The business really does start to reflect you over time, and you're able to mold everything together. It's a lot of fun."

Holly Stewart, Multi-Unit Franchisee in Atlanta, Georgia