TWO MEN AND A TRUCK®'s commitment to customers and providing outstanding customer service across its franchise network has been consistently recognized for more than 35 years. Along with our 96 percent customer referral rate, we continue to get recognized as a franchise brand, too!
According to Oncue, the moving industry generates nearly $86 billion in revenue each year. Similarly, research done by the Joint Center for Housing Studies of Harvard University showed that just over 40 million Americans moved each year, which equals close to 13 percent of Americans moving each year. These numbers show the moving industry is stronger than ever, and there's never been a better time to open a moving, storage, and junk franchise. With several hot markets still available but going fast, now's the time to make a move into TWO MEN AND A TRUCK franchising. 
Accolades that Speak For Themselves
93 percent of our franchisees reported they would invest in TWO MEN AND A TRUCK again based on this year's Franchise Business Review survey results. On top of that, we've been voted a "Top 50" franchise as part of the Franchisee Satisfaction Awards by Franchise Business Review for 17 consecutive years, and rated in Entrepreneur magazine's Franchise 500 list 23 of the last 25 years dating back to 1993, earning #1 in our category in 2022. 
We've also received recognition for the continued growth and stability of our brand. In 2021, TWO MEN AND A TRUCK was featured on Franchise Business Review's "Top 50 Best Recession-Proof Business to Start in 2021" list, which highlighted brands who have protected their franchise owners through tough times like the COVID-19 pandemic.
Franchising with TWO MEN AND A TRUCK is an exciting and rewarding opportunity, allowing you to own a business, give back to your community, and work in a proven culture of success as you become part of a nationally recognized brand. When you become a franchisee, you gain access to a wealth of knowledge gathered through more than 35 years of experience in the moving industry.
Consistent growth across our brand
With growth dating back to December of 2009 in our more than 380 locations across the United States, Canada, the United Kingdom, and Ireland, there's never been a better time to join our franchising family. We're proud of our 96 percent referral rating across the system, and the impact we've made on communities from coast to coast. We're known as the Movers Who Care®, and are the go-to company for local and long-distance, home and business moving, and packing services!
Some units have sold these amounts.  Your individual results may differ.  There is no assurance that you will sell as much. The above figures representations were compiled using financial reports submitted by franchisees. We have not audited or independently verified these financial reports nor have we asked questions of the submitting franchisees to determine whether they are in fact accurate and complete, although we have no information or other reason to believe that they are unreliable.  No certified public accountant has audited these figures or expressed his or her opinion concerning their content or form.  Written substantiation for the financial performance representation will be made available to the prospective franchisee upon reasonable request.  We encourage you to consult with your own accounting, business, and legal advisors to assist you to prepare your budgets and projections, and to assess the likely or potential financial performance of your franchise. 
Highest annual gross sales multi-unit
Our franchising model is built for growth which is reflected in the $15.5 million annual growth sales average for multi-unit franchisees in our system. Our franchisees trust the model to help them reach their goals and serve even more customers.
Network of franchisees
Our franchisees are all unique and have inspiring stories to tell. Today we're seeing more doctors, accountants, investors, and general business-savvy professionals than ever before. Our franchise owners are experienced, proficient, and have the capabilities to run multi-million dollar operations.
See how professionals in a variety of careers across multiple industries such as accounting, law, medicine, military, real estate, and many more, find the perfect fit as TWO MEN AND A TRUCK franchisees.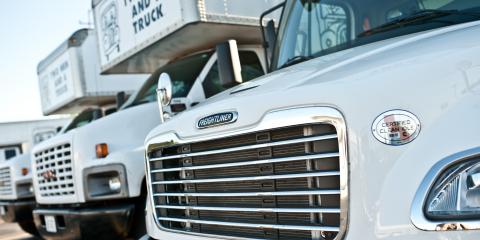 The TWO MEN AND A TRUCK Reputation
With a 96 percent customer referral rating, our brand was built on providing excellent customer service, giving back to the communities where we work and live, while following a dedicated list of core values which each employee is proud to live daily. The company has seen consistent growth dating back to December 2009 and has completed more than eight million moves – there's no end in sight to where this brand can go. We are poised for long-term success, and will continue to pave the way within the moving industry while showing why we're the Movers Who Care®!
In addition to caring for our customers, we care for our communities. Since 2009, TWO MEN AND A TRUCK locations across the country have donated hundreds of thousands of service hours to their communities. In 2022 alone, franchises donated more than $3 million worth of moving services. We also have five branded TWO MEN AND A TRUCK cause marketing programs – Movers for Moms®, Movers for Meals®, Movers for Military®, Movers for Mutts®, and Truckload of Warmth® — which franchises run locally to support their communities and lend a hand to those who need it most.
Our Cultutre Starts from The Top
TWO MEN AND A TRUCK was built around a strong family atmosphere, and it has carried the brand to the new heights it continues to reach. We are a family-owned company, and this family-style approach carries over to each and every person who works within our network. From franchisees and managers to Michigan Support Center team members, there's always someone willing to lend a helping hand, whether personally or professionally.
Since day one, TWO MEN AND A TRUCK has operated differently, and our franchises come first above everything else. The decision was made that TWO MEN AND A TRUCK would not take kickbacks from vendors and instead, invest any money made back into the franchise system. This isn't a common practice in the franchising industry, but is another example of what sets us apart as a moving company and more importantly, a franchise business.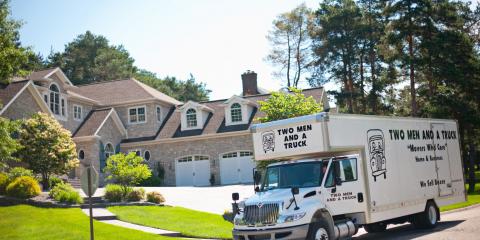 Our Customers
TWO MEN AND A TRUCK customers trust us because we serve as the one-stop-shop for all moving needs. Regardless of what they're moving or where they are moving to, we feel our services can be tailored to fit any situation, and we work closely with our customers to ensure they're comfortable and satisfied with the process from start to finish.
Here are several services our brand offers to make moving a little easier for customers:
Local Moving
Let's face it – moving is hard, and not very many people actually want to do it on their own. We've found over the years that if they can afford it, people will gladly pay for moving services – especially our younger generation of customers. That's where TWO MEN AND A TRUCK comes in. Whether it's across town or across the country, a home, large business, or even a downsizing move – we have the capabilities to leverage our franchise system to best serve our customers.
Warehouse and Portable Storage
A growing segment of our business is storage and provides our franchisees a way to continue diversifying their business. We've developed additional storage solutions for our customers with our portable storage option, which means we deliver a 16 ft., portable container to a customer's home or business for them to load. This eliminates the need for them to take their belongings to a facility while providing them with a storage option that fits around their schedule. This is ideal for temporary storage during the renovation process or for customers between homes.
Long-distance moving options
Running a successful moving franchise starts with having high-quality service options to meet all of your customers' needs. This includes those customers who need to move further than just down the street or across town. This is where our Value Flex® option comes in, as it gives franchisees another revenue stream to tap into as they offer budget-friendly, long-distance relocation options to their customers. Utilizing specialized shipping crates and third-party carriers, you can offer customers with flexibility in their moving dates the option to ship a few large items or one rooms' worth of belongings anywhere across the country.
Junk Removal
Oftentimes customers don't need help moving items somewhere new – they need help moving items out of their life. This is where our junk removal service comes into play, as our professionally trained moving teams show up using specialized junk removal trucks to assist customers with removing and disposing of belongings they no longer want or need. This service works great for customers undergoing renovations, decluttering, downsizing, spring cleaning, completing a garage cleanout, and more.