Since our beginnings, the TWO MEN AND A TRUCK brand has committed to being more than just a moving company in the communities where we operate. Our goal is to support those in need where we work and live, to make a difference and use the resources we have for good. 
Company Founder Mary Ellen Sheets donated her first $1,000 in profit to 10 local charities in the Lansing, Mich., area, which set the tone for how the brand would operate moving forward. Since this time, we've made it a goal to use our resources to give back in as many ways as possible, whether it's through our own charitable programs or through partnerships with organizations across the country.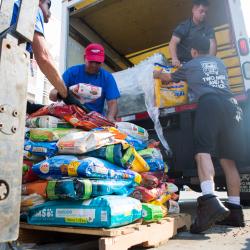 Convoy of Hope
The Convoy of Hope team has a simple mission of helping those in need get the food and supplies they need, and their main focus areas include feeding children, disaster services, agriculture, women's empowerment, and rural compassion. When disaster strikes, they're often some of the first people on scene with food, water, and other supplies to aid in the relief.
TWO MEN AND A TRUCK has offered our moving resources on numerous occasions to help the team at Convoy of Hope transport these supplies to areas that need them most. As TWO MEN AND A TRUCK's national partner, we donate 10 cents of each move to Convoy of Hope to assist with their efforts and together, have formed a strong partnership over the years that continues to support the mission of both organizations.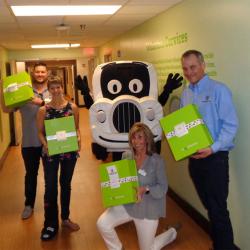 Cheeriodicals
Cheeriodicals is an organization known for their green "boxes of cheer" which they assemble with businesses across the country as teambuilding exercise, and then deliver those boxes to children's and veterans hospitals in cities around the country. We're happy to be their preferred moving and logistics partner, and often work with them everywhere they go to help load up the boxes of cheer and deliver them to hospitals or outpatient facilities. You can read more about the partnership, here.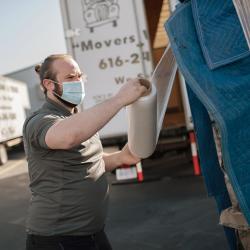 COVID-19 Relief
The COVID-19 pandemic took everyone by surprise and slowed down the world, but our TWO MEN AND A TRUCK teams powered through and kept up with our mission of giving back even with the challenges presented.
Throughout the pandemic, TWO MEN AND A TRUCK franchises everywhere used their moving trucks and resources for all different types of charitable good in the community, from delivering masks and medical equipment to hospitals, to delivering food to those hit by hunger hardships as a direct result of the pandemic.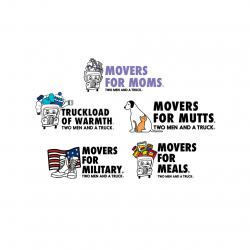 TWO MEN AND A TRUCK Community Programs
Aside from all of the work we do with established organizations in our communities, we have developed our own giving programs to help those in need. TWO MEN AND A TRUCK's national giving campaign is called MOVERS FOR MOMS®, which is run by every TWO MEN AND A TRUCK franchise each spring leading up to Mother's Day. Franchises partner with local businesses and organizations to set up collection sites for essential care items to help moms and families living in shelters or who are impacted by domestic violence. These items are then delivered to those in need on or around Mother's Day as a sign of appreciation for all moms, regardless of their circumstances.
We also have four fall campaigns including MOVERS FOR MUTTS®, MOVERS FOR MEALS®, MOVERS FOR MILITARY®, and TRUCKLOAD OF WARMTH®, which our franchises can run from September through December based on their specific location and area of focus.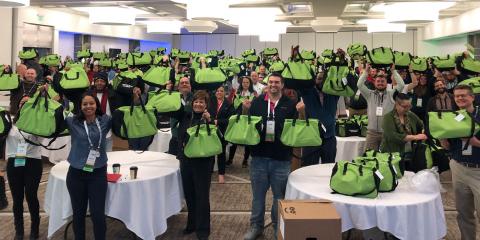 Franchisees at all of our franchise locations have embraced community outreach programs, and over the years, have partnered with a variety of local and national charities, including Toys for Tots, United Way, Habitat for Humanity, and many more. Working with charities of all levels and staying involved with community involvement programs allow us to build stronger relationships within the communities where we live and work.
Our charitable work doesn't stop there. Along with partnering with various organizations, TWO MEN AND A TRUCK has five different campaigns of our very own – Movers for Moms®, Movers for Military, Movers for Meals®, Movers for Mutts®, and Truckload of Warmth. Each of these programs serves a different purpose, and allows our franchises a chance to work together and make a difference in the lives of those who need it most!