Capital Requirements
Metro Market
Metro market start-up costs run between $164,000 and $435,600.
Mod Market
Mod market start-up costs typically run between $105,500 and $242,100.
Your two most important assets are people and trucks! This initial investment outlays business costs of training, insurance, six months of working capital, and licensing costs at both a local and national level. We also partner with various vendors for the best business opportunities for our franchisees - we don't take incentives for business deals, but pass the savings on. We let you decide if you want to buy or lease new or used trucks, and can work with recommended suppliers for whichever option works best in your business.
With every meaningful entrepreneurship opportunity comes investment, and we are proud to say that 9 out of 10 TWO MEN AND A TRUCK® franchisees report they would invest in the award-winning, service-based franchise again. Not only does this investment help make a difference in the lives of our customers – it also trickles down to the team members at our franchises, too.
As you're researching our brand and the opportunity piques your interest, give us a call to learn about our more than 200 available metro and mod market territories. Now's the time, learn how to start your own business and make a difference in the lives around you!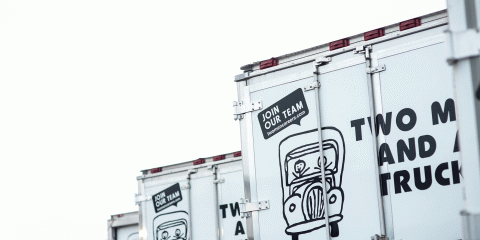 Required Assets
When signing a TWO MEN AND A TRUCK franchising agreement, there are a few necessary requirements to get your operation up and running and ensure success for many years to come.

Trucks
Trucks are essential to the entire operation of your franchise, which is why we require a new franchise to have two new trucks when they open. The TWO MEN AND A TRUCK Franchise Development team has data to support you on when it's best to add trucks and can point you in the right direction for vendors.

Building
It's required to have a physical location for your franchise. Although you can buy a building, many new franchisees begin by renting or leasing a building for the first few years of operation.

Equipment
We require a minimum investment of $8,000 in moving equipment. This includes moving straps, dollies, and more. However, TWO MEN AND A TRUCK's First Gear team works with each new franchise to determine the necessary amount of equipment to invest in.
Access to Capital
SBA LOANS
As part of the investigative process, we ensure you are financially equipped to go through the funding process with the SBA, bank, or a financial institution. With the average startup cost ranging from $100,000 to $585,000, you have many options to help fund your franchise investment.
VET FRAN PARTICIPATION
TWO MEN AND A TRUCK is a franchise brand which passionately supports our country's heroes. We are members of the Vet Fran Association and work together to provide access and opportunities in franchising to our nation's veterans. As members of Vet Fran, we provide our Veterans of the U.S. armed forces and their spouses a 10% discount on the $50,000 franchise fee.