Initial development:
During this time, the focus will be on critical steps that will determine the timeline for opening of your moving company:
Gather moving permits from the state – this can range anywhere from one to three months to complete, depending on the state.
Search for an ideal office location. While this part may not sound like a daunting task, finding a location that can not only handle truck parking but one that's also in close proximity to your ideal customers and employee base is crucial. Finding the ideal location that meets all of these requirements can be one of the longest moving company start up tasks required to get your location operational.
Build your staff organizational chart.
Set up vendor accounts for recruiting, payroll, and accounting.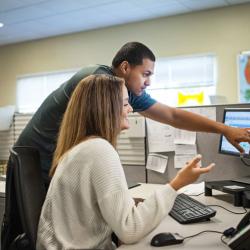 PLANNING
In this leg of the process, you'll need to get your technology and marketing preparation completed.
     You'll want to:
Confirm the technological equipment needs for your business and placing the orders to receive the gear in a timely manner.
Construct a marketing and business plan to ensure you generate enough leads to accomplish your revenue goals.
Build a business plan for your first year of operation.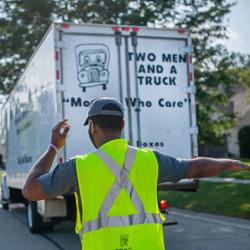 OPERATIONAL
Now that we have most of the behind-the-scenes work completed, we'll begin working on how to start your own business and the day-to-day operations.
Work with your sales team on developing a consistent sales process to convert leads.
Discuss operational processes and procedures with your management team.
Work on a training plan for the various positions in your organization. Having a structured training plan will help cut recruiting and onboarding costs. It will also prove to be a good recruiting and retention tool if you have a plan to promote employees within your organization.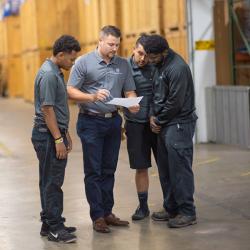 OPENING PREPAREDNESS
The finish line is in sight, and it's almost time for your first move! What we'll accomplish in the weeks leading up to opening include:
Construct a customer service processes to effectively manage any situation that may occur. From damages to missing items, if you handle the situation with effective customer service you can turn that negative situation into a positive experience with your company.
Train your staff to ensure they are fully able to handle their daily assigned tasks. 
35+ Years Experience - THE TWO MEN AND A TRUCK® SUPPORT SYSTEM
Once a franchise agreement is signed, a TWO MEN AND A TRUCK® field training & development specialist will assist you with each step in the process of opening your franchise. From moving furniture to managing and training employees, their goal is to help you build a strong culture based on our core values and a solid operational foundation that allows you to grow a profitable business.
With support team members at the Michigan Support Center, the field trainers are your main point of contact to help you navigate the complexities as you learn about starting your own business. The field training and franchise development teams will schedule calls where both teams discuss your goals and the timeline for opening your franchise. They will conduct a series of weekly calls leading up to the opening of your franchise and guide you through the appropriate steps to get you going on the right foot!