Opening a new business can be overwhelming, especially in areas where a business owner is not proficient. One of the top reasons people join a specific franchise system when opening a new store is for the level of consulting provided by the franchisor. For nearly four decades, we've demonstrated franchise support from our Michigan Support Center consultants which is a resource valued by both new and existing franchisees. This is why we've implemented the concept of consulting teams to offer the most streamlined support system possible to our franchisees and their teams.
The corporate consulting teams enable effective and efficient communication and consulting between the local franchise teams and our Michigan Support Center. This alignment ensures franchises receive a more personal, individualized approach. All consulting teams include subject matter experts equipped to provide consulting on areas critical to business success including accounting, sales, recruiting, marketing, and risk management.  
Types of Support
Franchise Business Consultants
Franchise business consultants serve as your main point of contact at the Michigan Support Center, and work to keep you connected to all aspects of the brand and help your franchise run smoothly.
Franchise Accountants
Franchise accounts help your franchise stay updated with payroll implementation and other finance solutions.
Franchise Recruiting Specialists
Hiring and retaining employees is crucial to the success of a TWO MEN AND A TRUCK franchise, and franchise recruiting specialists work with you to implement the best hiring strategies to grow your moving teams.
Franchise Marketing Specialists
A franchise marketing specialist will work with you to develop new and innovative marketing tactics to help expand your business and marketing reach in your community.
Risk Management Specialists
Risk management specialists are here to help you keep your franchise work environment safe for employees and in compliance with OSHA laws.
Sales Specialists
TWO MEN AND A TRUCK sales specialists will work with your teams to make sure you have the most efficient sales strategy in place in an effort to secure jobs and continue to move customers forward.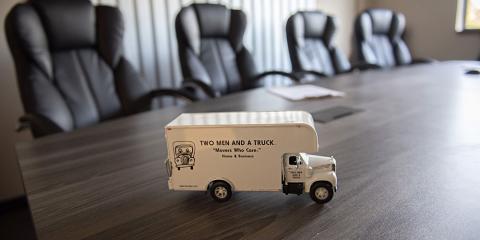 With team members having backgrounds from these key areas of the TWO MEN AND A TRUCK business, you're able to have multiple people in your corner helping you to work through important details such as franchise goals, revenue growth, move count, profit, and satisfaction scores. These individuals all work together at the Michigan Support Center, too, allowing them to collaborate when coming up with strategies and solutions.
This centralized consulting model was initiated after a test pilot with franchisees and 100 percent of the members featured in the pilot voted to take this model full-time, showing just how effective it can be and how well-received it was from the people living it each day at our franchises.