As a TWO MEN AND A TRUCK franchisee, the number one goal for your franchise is offering high-quality services for customers in order to meet all of their moving, packing, storage, and even junk removal needs.
Additional services help to diversify revenue streams, and we're committed to supporting our franchisees in offering a wide range of services to meet this goal. A key area of business for all TWO MEN AND A TRUCK locations is meeting the long-distance moving needs of our customers.
Being able to operate as a long-distance moving franchise expands our reach to customers looking to move further than across town or across the state. At TWO MEN AND A TRUCK, we offer two long-distance options: Expedited Long-Distance and Value Flex®.
Types of long-distance services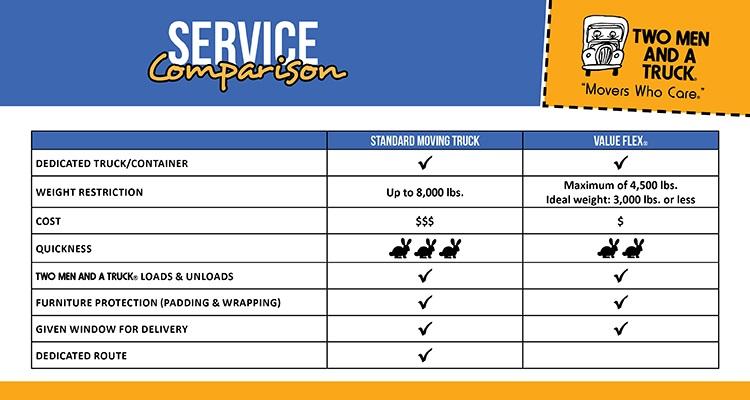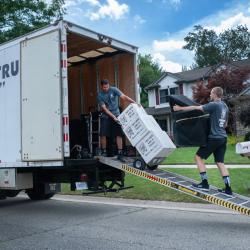 Expedited Long-Distance
The more traditional version of our long-distance options, the expedited option is as simple as loading up one of our moving trucks and driving to the customer's new destination, whether across the state or country. With this service, you can offer quick delivery times and guarantee the same movers who loaded the belongings will be the ones unloading at the new home or business.
This expedited moving option allows our franchises to offer exact dates of delivery, giving customers the chance to settle into their new homes or office settings even sooner and without guessing when their items will arrive.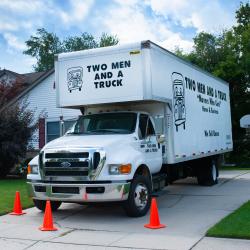 Value Flex®
When coming up with our long-distance moving options, we knew it was important to give customers a variety of services because we know moving situations all differ. With this is mind, we developed our Value Flex service as a way for franchises to give a long-distance moving option as an alternative to our traditional expedited long-distance option.  
With Value Flex, you can provide customers with the option to ship a few large pieces of furniture or one rooms' worth of belongings long distance via third-party carrier utilizing our specialized shipping crates. Franchises are able to provide customers with exact shipping dates and the guarantee of no shared space with their belongings, creating a budget-friendly option for long-distance relocation.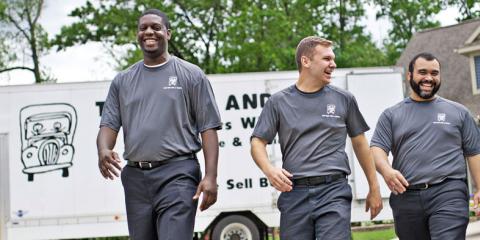 As a franchisee, certain building and equipment requirements are required – along with specialized crates for Value Flex – as an investment to offer our full long-distance moving package. However, this investment makes you a go-to destination for customers looking to move long-distance, and will help you continue to diversify revenue streams for your business.