Achieving your dream of business ownership can happen in a variety of different ways and determining the best route for you is an important piece of the puzzle as you find ways invest your money. While starting a business from scratch is the oldest form of business ownership, one alternative method is joining a franchising brand.
When you join a franchising brand, you're investing into a proven model of success, with operational models and strategies already set in place from years of experience. You're still a business owner but get the benefits of a franchising model, which can help in the early days of operation as you're buying into brand recognition and service options that have already been developed.
TWO MEN AND A TRUCK® features a vast, diverse franchising network full of individuals who come from all business backgrounds and who have now found success within our brand. Many go on to open multiple locations, and we're always looking for new franchisees to help us expand our footprint and serve even more customers.
We're committed to being the one-stop-shop for our customers when it comes to moving, and we're more than just home movers. With long-distance moving, packing services, junk removal, storage, and many more specialty moving services – the TWO MEN AND A TRUCK brand continues to look forward and find new ways for our franchises to expand with diversified revenue options.
Below, you'll see several benefits of franchising vs. starting your own business.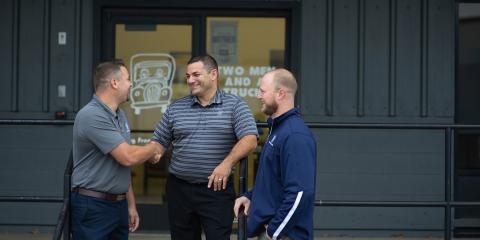 Training For Franchisees
Right off the bat, you receive expert training to prepare you for life as a franchisee with TWO MEN AND A TRUCK. We believe strongly in extensive and ongoing training for all levels of the brand, and we continually update our training methods while building new educational courses to help our franchisees and their team members succeed.
With programs like our Gearing Up course – built for first-time franchisees to help them learn the ropes of being a franchise owner – to our Stickmen University library, you're always a click away from the latest and greatest information as you learn new parts of the business or just need a refresher.
YOUR OWN FRANCHISE OPENING TEAM
As a business professional, you might be wondering how you can open a moving franchise when you don't have any background in the industry. The answer? Our Field Training team!
This team was developed to help new franchisees get up and running after they have committed to investing with the brand. The Field Training team is there to support you with every step of the journey, from getting your franchisee agreement signed to helping you open the doors to your new location and getting your trucks in operation with moves on the books.
With the First Gear team, the seemingly daunting task of opening your own moving franchise suddenly becomes manageable and obtainable as they take their years of experience and expertise and apply it to your location as you work through the process of opening your doors.
The Field Training team is available to support franchisees in the following areas:

Trucks
You can't start a moving company without moving trucks. The team will help you develop partnerships with the right trucking companies to get your trucks ordered quickly while saving you money.

Phones and Internet
TWO MEN AND A TRUCK franchises generally work with our preferred vendors to get onboarded with the right phone and VOIP systems to keep their franchises and office staff connected. Working with you to find the best fit, they'll get your office situated with the right connections to meet your business needs.

Building Selection
Much like moving trucks, you can't start a moving business without a home base, and the First Gear team is here to help you find an office to start your operation. Finding the right building space for a new TWO MEN AND A TRUCK franchise follows a detailed plan and is based off authority requirements in the state where the franchise is opening.

Setting Payroll Services
Payroll is vital to any business and a TWO MEN AND A TRUCK moving franchise is no different as you build out your team. The First Gear team will help you get comfortable in this space so you can start hiring employees.

Website and Online Marketing
Creation of a quality and informative website is also crucial as you prepare to open your doors. TWO MEN AND A TRUCK franchises utilize a centralized website platform with local resources to help build a local web presence for your franchise. This goes a long way in making your business visible in your new market, with minimal franchise investment.

Marketing Materials
Another key role in getting your business up and running is providing you with the proper marketing materials. The First Gear team works with the Michigan Support Center marketing team and preferred vendors to get your location the right tools for raising awareness about your business' services.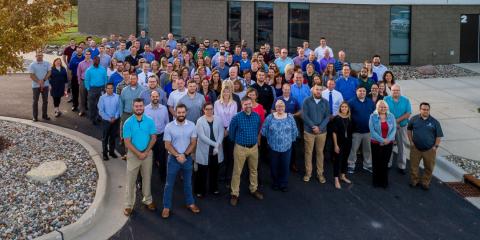 Ongoing Support
Arguably no resource is more valuable to new TWO MEN AND A TRUCK franchisees than the corporate support team. Our corporate office location in Lansing, Michigan – the home of TWO MEN AND A TRUCK – features dedicated support teams for all areas of the business with one goal in mind: ensuring you have what you need to achieve success with your franchise.
These teams – which are experts in all areas of the business such as marketing, sales, accounting, human resources, operations, risk management/safety, and more – continually work to build the latest and greatest strategies to support our franchises with grow.
From support for building out marketing plans to raise awareness of your location to developing ideas for new service options or providing resources to help you achieve financial growth, these support teams are a phone call away and ready to help at all times. In-person and virtual training courses are also offered for franchisees to help them stay up-to-date on best practices for the brand and their teams so they can keep their locations moving forward.
Hear it from our franchisees
"In December of 2014, I finally became a franchisee for TWO MEN AND A TRUCK. It was a very detailed and organized process in the months leading up to signing. We were fortunate enough to be able to speak with the corporate First Gear Team on a weekly basis, and they made sure we had everything in order to be successful."
- Multi-unit franchisee Curtis Newman, who owns locations in Kansas, Missouri, New Mexico, Nebraska and Texas.