With so many outstanding franchise locations spanning from coast to coast – even internationally – in the TWO MEN AND A TRUCK family, we place a great amount of importance on giving recognition to those who stand out the most.
To give this recognition, system leaders from TWO MEN AND A TRUCK gather every spring for our Annual Meeting conference, where the top franchise locations are recognized for their efforts in a variety of categories, including customer service scores, years of service, sales, and more. It's a chance for franchisees to meet and greet with system executives, Home Office support staff, and other franchisees to learn new ideas, talk success, and be honored for their achievements.

Franchisee Spotlight
Chad Arnold
TWO MEN AND A TRUCK Multi-unit Franchisee Chad Arnold was recently recognized as a 2021 "Franchisee Rockstar" by Franchise Business Review (FBR). Chad owns locations in Carrollton, Garland, and McKinney, TX and was nominated for this award because of the support he provided to his team of employees and the community during the 2020 COVID pandemic.

Way to go, Chad!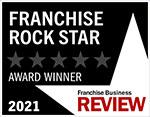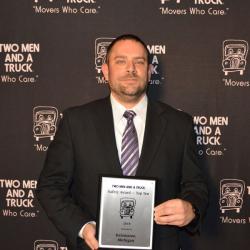 OPERATIONS
Impact Award
Presented to franchises who excel in all areas of the business- sales, marketing, safety, and recruiting
Exceptional Customer Service Award
Recognizing the franchises who achieved the highest customer satisfaction scores
Operational Excellence Award
Presented to the franchises who score the highest in operational excellence
Achievements in Excellence Award
Presented to the franchises who scored the highest in our own company-based scoring system
Safety Award
Presented to the franchise who scores the highest safety submission score
Significant service award (5, 10, 15, 20, 25 year range)
Recognizing franchises who reach these milestone years of operation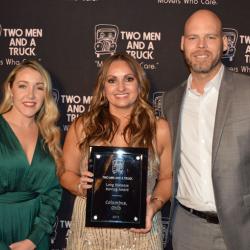 Sales
Business Move Percentage of Revenue Award
Presented to franchises who earn the highest business moving revenue
Long-distance Moving Award
Recognizing franchises with the highest long-distance moving revenue­
Backhaul Moving Award
Presented to the franchises with the highest revenue in backhaul moving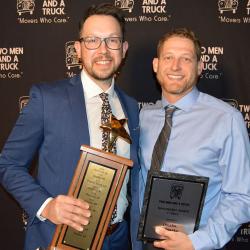 Marketing
Newsmaker award (First, second, and third place)
Presented to franchises with the highest media placements for the year
Market Share Award (Platinum, Diamond, Double-Diamond, Triple-Diamond)
Presented to franchises who increased their market share to the next level